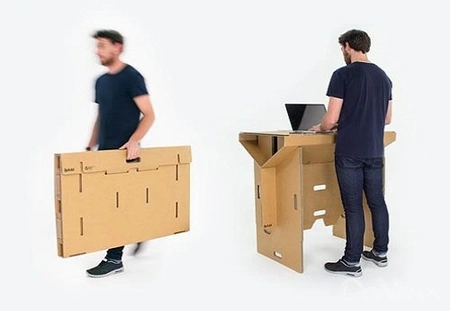 Cardboard is so versatile these days that Google USES it as a cover for virtual reality glasses, and now someone has built an entire desk. The Refold team also made a flexible, portable desk out of cardboard. Even when you're away from home, you don't have to complain that the environment isn't perfect for work.
It is reported that Refold's main body is only four pieces of cardboard, which not only requires no glue, but also is very convenient to assemble. By folding and piecing, Refold can be assembled in a few minutes. Although it doesn't fold into very small pieces, it USES a very lightweight cardboard material, has superior flexibility, and can easily support a person standing on it.
It can also adjust the height of the table according to the user's own conditions. Thanks to its 7mm double kraft board and its weight of only 6.5kg, it is quite light to hold when folded and can be carried everywhere. Even when you are away, you need to unroll the cardboard so that the table can be assembled. And when it's not needed, just restore the table to its original shape. If you want to personalize, you can also doodle on the cardboard.